Free Computer Recycling Can Be a Trap. Protect Yourself.
Discover why some companies advertise free recycling, and how they can get you into trouble.
You're looking to remove old computers from your company. A quick on-line search shows that some electronics recyclers are willing to take your equipment for free, while others charge a small fee. The choice seems like a no-brainer: Just choose the company that will get all of that IT equipment out of your building at no cost to you. Right?
Or maybe you're wondering how some recyclers can stay in business when their competition is offering the same services for free. I'll explain the difference between these two business models and how choosing the wrong computer recycler can cost your company a lot more than a small recycling fee.
How Computer Recycling Companies Make Money
The computer recycling industry is a competitive one with thin margins. Profits are mainly made from reselling computers and other IT equipment. Some customers may require that their equipment be destroyed rather than resold. In that case, the resale option is out of the question.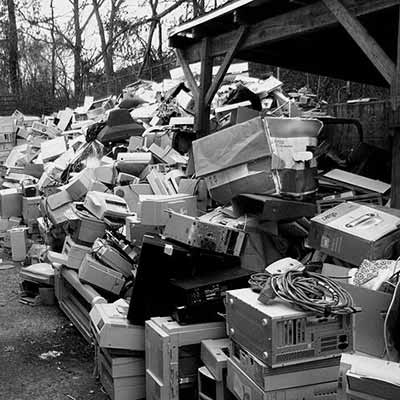 The process of preparing computers for disposal or resale, which involves tasks like asset tag removal, dismantling obsolete equipment, sanitizing or destroying hard drives, and EPA compliant disposal, is highly labor-intensive. You may have heard that money is made from the extraction of precious metals; however, it's not enough to cover the costs involved. Therefore, depending on the situation, legitimate recyclers may be forced to charge fees to cover their costs.
When Free Computer Recycling Makes Sense
Legitimate computer recycling companies can sometimes offer some of their services for free – and in some cases, even share the resale profits with you – but this is only under certain circumstances. Assuming the customer will allow the equipment to be resold, it's important that the computers still have significant value. Newer, high quality IT equipment will have the best resell value. To protect the recycler, a recycling fee may be set for the equipment that gets credited back after a physical inspection.
The remaining older or broken equipment will typically require a recycling fee. That means it's important to start the recycling process soon after updating your equipment.
When Free Recyclers Aren't Really Free
With such small margins, you may be wondering how free recyclers are making any money on older, obsolete and broken equipment – also known as the majority of computers being disposed of.
First, many of these companies aren't really free. They just say they are to get calls from their website. Once they rope you in, they explain that your equipment doesn't actually qualify for free disposal.
Another common approach is to quote a nearly free price to attract your business, but they'll explain that it's only an estimate and there may be "small" additional charges that can't be specified until the work is completed. They may not even tell you. Choosing, instead, to hide the disclosure in the fine print of the contract. As a result, you may discover that the lowest bidder was actually the highest bidder.
As bad as this is, there's another breed of free recycler that is even worse to work with, and you won't even know what happened to you until it's too late.
The Recycler That Can Get You in Trouble
You may find a company that promises to dispose of all of those obsolete computers and wipe your hard drives for free. What's really going on here?
As expected, once the equipment arrives, they select the best items to sell. The newest and functional equipment is easily resold, while broken devices are stripped down and only the functioning parts are sold.
But what happens to the equipment that can't be sold?
Ideally, the company should process the unsellable computers the same way they do with the newer equipment - breaking them down and wiping or destroying sensitive data. However, as the company was paid little or nothing for the service, processing all equipment would result in a loss of income. The more they process, the more they lose.
Instead, these companies may resort to dumping the unprofitable e-waste, which still contains sensitive data, overseas to a developing country, or in a local landfill. We've seen situations where they just keep filling up a warehouse or tractor trailers and then abandon everything.
Illegal Dumping Is More Common Than You Think
Here are just a few examples of electronic waste recyclers that have been accused or found guilty of improper recycling practices:
The owner of Legie E-Scrap Recycling in Jacksonville, Florida was arrested in 2018 after state law enforcement officials said they discovered 47,000 pounds of hazardous waste had not been disposed of properly.
In 2021, the owner of Eastern Electronics Recycling in North Carolina, pleaded guilty to illegally storing hazardous waste without a permit, and did not recycle or properly dispose of the e-waste.
Total Reclaim in Seattle, Washington agreed to settle with the Washington Department of Ecology in 2018 for illegally disposing of waste by exporting it to Hong Kong, and for improperly storing e-waste.
How These Bad Actors Can Affect You
Why should you be concerned about the fate of your computers? Even though the hardware is long gone, the consequences of improper computer recycling can impact you. The biggest threats are not just environmental hazards, but the exposure of sensitive data. Proper data removal is crucial when disposing of old devices, as many businesses have found themselves in the headlines due to the exposure of customers personally identifiable information (PII) on their hard drives.
The result can be some hefty fines. Here are just a few examples.
In 2022, Old Dominion Freight Line settled a case with the state of California over allegations that the company failed to properly manage and dispose of hazardous waste, including e-scrap. The company will pay $1.36 million in civil penalties, costs and supplemental environmental projects.
Walgreens agreed to pay the city of Los Angeles and 44 other local jurisdictions $3.5 million in 2020 for improper waste disposal, including e-waste, and mishandling of customers' records.
One of the worst cases is Morgan Stanley, which was fined more than $163 million for IT asset disposition errors resulting in the loss of data for 15 million customers. The banking giant decommissioned data centers between 2016 and 2019, and hired an unqualified company in New York with no data destruction experience to process the equipment. Devices were sold to third parties with the data still on them.
These, of course, are the big headline grabbers, but we've seen even small companies like dental offices end up on the local news when customer information is exposed.
A Safer Way to Choose Electronics Recyclers
How can you protect yourself from legal issues and public embarrassment? Obviously, just because an electronics recycling company charges a fee, doesn't mean they'll properly recycle your IT hardware. However, there is one telltale sign that the company doesn't take its primary job too seriously: it's not certified.
Certification offers third-party verification that a company adheres to responsible environmental practices and secure data management. Companies that are certified by e-Stewards or R2, two of the leading electronics recycling certifications, must adhere to strict standards for the reuse and recycling of electronic products. The NAID AAA Certification is considered the gold standard for computer recycling and secure data destruction, and is often a requirement for companies in industries like finance, banking, insurance, and healthcare. All three certifications mandate regular audits.
It's unlikely that you would ever see a certified recycler promoting free services.
Many consumers and businesses expect recycling to be free, which has attracted some bad actors in the recycling industry. Do a little homework to ensure that you choose an electronic waste recycler that handles your company's assets responsibly.
---
— PC Disposal has been helping companies properly dispose of IT equipment since 1998. As a NAID AAA Certified responsible recycler, we are the first ITAD firm to offer a $1,000,000 service guarantee and secure transport cages for equipment holding sensitive data. Contact us to learn more about our services.